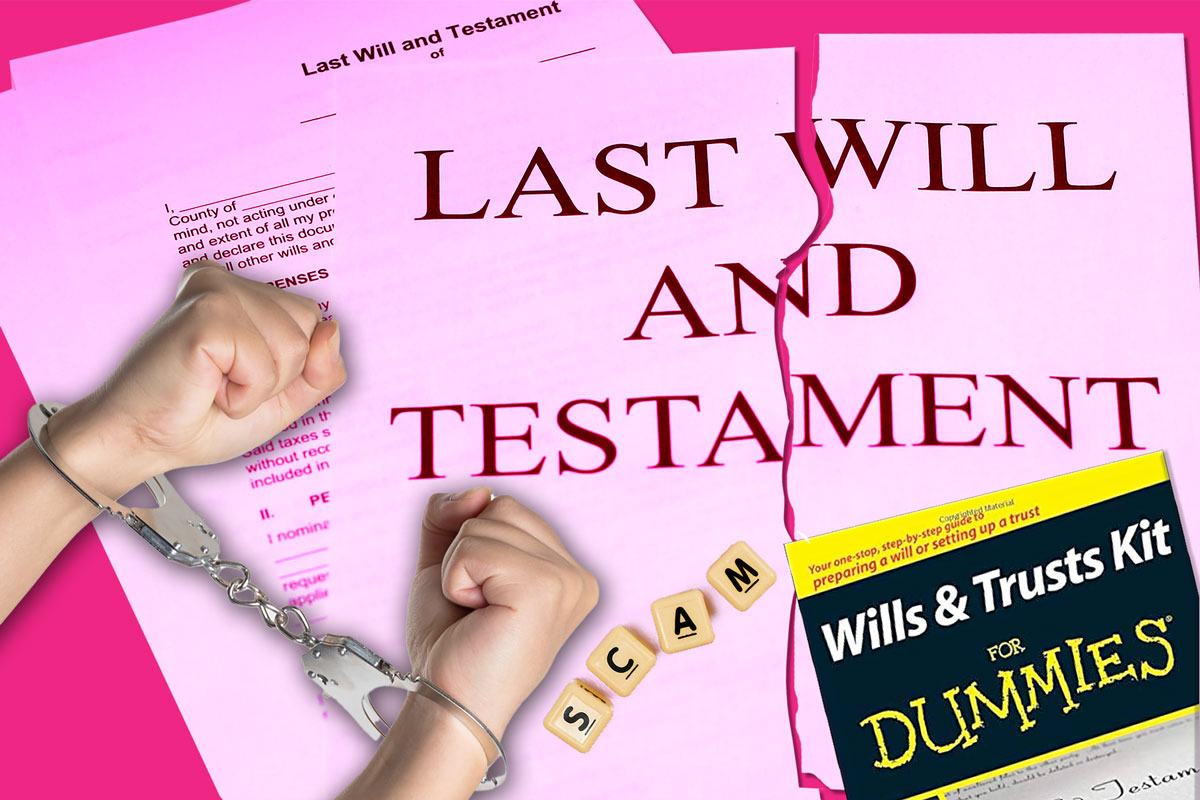 Where there's a Will, there isn't necessarily a way…
The director behind a string of insolvent companies is finally to appear in Court to face fraud charges. Alana Benson was a director of Indeed Law Ltd, an unregulated will writing firm, originally appeared in court in February 2022. That trial was halted due to problems with the jury. The trial has now been re-scheduled to go ahead in September. Benson, along with six co-defendants, is alleged to have used cold calling and high pressure sales techniques as well as failing to deliver wills for some of their alleged victims.
This case highlights a number of potential pitfalls with using will writing companies over using a solicitor. As the Benson case highlights, most "will writing" companies are unregulated. Anyone can set up such a company and claim to be an expert in will writing with no legal training. With the availability of will writing kits on the High Street it's easy to assume that the process is simple. Why go to the expense of paying a solicitor when you can do it yourself? In fact, why bother at all? Let me offer some examples of where having no Will, a DIY Will, or incorrectly written Will can lead to problems.
If you die without leaving a Will then your estate (money, property, etc.) is shared out according to the rules of intestacy rather than how you wished it to be shared. If you and your partner were not married or in a formal civil partnership, the surviving partner is not entitled to a share of your estate. It is important to note that although couples who live together are often referred to as common law husband or wife, this is not a legal definition and as such common law spouses are not automatically entitled to a share in their partner's estate. In some cases the surviving member of an unmarried couple ends up having to pay inheritance tax on any assets they eventually inherit.
If your Will does not meet certain formal legal requirements then it is not valid. This means it does not exist. In circumstances such as this your estate would again be divided up according to the rules of intestacy (as if you had never made a Will). Even if a Will is valid, it is possible for certain people to contest it if they feel they should share in your estate. If you have an ex-husband/wife or children from a previous marriage, having your Will written by a Solicitor is particularly important. They will be able to advise you on how the Courts might view any potential challenge to how you are planning to divide your estate. Not only does this save unnecessary legal costs in the event of your Will being contested, it also spares your family the distress of legal proceedings while they are grieving.
Perhaps the most important reason to use a Solicitor to write your Will is that the legal profession is regulated. It is a criminal offence for anyone who is not suitably qualified and registered with the Solicitors Regulation Authority (SRA) to call themselves a Solicitor. The SRA ensures all Solicitors hold an approved degree or post-graduate conversion qualification and have passed a period of post-graduation training. In the event that you have a problem with a Solicitor the SRA will investigate. If a company you are thinking about using to write a Will is not regulated by the SRA then it's highly likely that they are not qualified Solicitors. You can check our registration by clicking on the SRA badge in the bottom right corner of this website.
To arrange a free 30 minute consultation to discuss your Will requirements, call us on 01257 422 500 or use the Live Chat widget at the bottom of the page. Lines are open 8.00am to 9.00pm Monday to Friday and 9.00am to 7.00pm on weekends.